Religious Vocation
We are religious priests and brothers following in the footsteps of Christ and Saint Augustine since 1244. As 'Active Contemplatives' and 'Men of Heart', we live our religious vocation within community. However, to be an Augustinian is to first serve God and His people in diverse ministries such as priesthood, brotherhood, education or missionary work, to name but a few. The Augustinian Order is a brotherhood within the Catholic Church, so you need to be a Catholic to join. And as we are an order of brothers, you also need to be male, a person of faith and looking for your way of living that faith within a religious community.
Additionally, to become an Augustinian assumes a certain faith commitment and vocation to religious life. Nonetheless, that doesn't mean being overly churchy; rather, it means being a person with a commitment to their faith. As an Augustinian Order member, you will be a professed brother first, and then you may also wish to be a priest, but that's another choice to be made and involves further study and training.
Br. Stephen's Story of his Religious Vocation
One of my earliest memories is of my two brothers and myself 'saying mass' when we were younger in the upstairs of my father's pub. In fact, thinking back, many of my memories revolve around such things as attending Mass, going to altar-boy practice or participating in the local novena. If this makes me sound devoutly religious, I am anything but. However, the point is that I had a normal Irish childhood, and many reading this will have similar memories.
Obviously, at such an early age, I had little intention of entering Religious life. But this changed when I entered Secondary School, and a returning missionary showed us a presentation on leprosy in Ethiopia. This deeply touched me, and I remember fundraising for the Brother, and my Religion teacher saying that she would be proud if I became a Priest/brother. Perhaps she saw something I didn't? At that time, I remember thinking the life of a religious was very daring and exciting. As one was helping the poorest in our world and society. I still think this is part of my vocational calling today!
Call to Priesthood
However, it wasn't until I was about 16 that I seriously considered the idea of Priesthood. I remember sending off a letter requesting information around that time to my diocesan vocations director. Whether or not it was received, I don't know, but the fact that I never heard anything back made me think that I wasn't good enough to be considered. The thought then evaporated from my head for some time.
And so life continued, and I did all the things that a young man does. I had girlfriends, I went out socialising with friends and played a huge variety of sports. With hurling being my first love in sport! I had various jobs while I attended university, and I finally qualified as a secondary school teacher. Eventually, working my way to be a Deputy Headteacher. I loved teaching, and those years were undoubtedly the most enjoyable of my life. I still miss the interaction with the pupils to this very day, and I do hope that I might one day work in one of our Augustinian schools here in Ireland.
During my long school holidays, I volunteered with the Missionaries of Charity in India, Ethiopia, Romania, London and Albania. It was those experiences that were hugely influential in my vocation to Augustinian religious life. As a volunteer, I was encouraged to participate in the life of the Sisters. And I must say I thoroughly enjoyed their rhythm of life. In fact, this way of life is very similar to our own Augustinian life. Both lives having an emphasis on prayer, ministry, silence and contemplation. Maybe that's why as Augustinians, we are sometimes referred to as Active Contemplatives?
A Religious Vocation as something Profound
Even though I had a successful teaching career and all the outward signs of fulfilment, I was always seeking something more profound, and I found this when I prayed and spent time in silence with God. And this led me to the Augustinians. You see, the essential Augustinian charism of coming together as a community, "one in mind and heart", is very appealing to me and something I feel that I contribute positively towards. I desire to serve God in many forms, from serving His poor in whatever way poverty manifests itself – physical, spiritual, material, financial etc., celebrating the sacraments, studying or just merely being present in community with my brother friars. I believe I am making a difference, however small that may be.
Contrary to what many people think, living as an Augustinian does not mean sacrificing everything that I know or believe in. In fact, I experience a great sense of freedom living the life I know God wants me to live. And I know our Order actively tries to make sure that each Friar is living their true vocational calling. I can honestly say that I feel entirely at home in our Augustinian communities. So I simply can't imagine not being an Augustinian now.
There is so much more to say, but I hope at least this gives you some idea as to my Augustinian journey. If you are interested in finding out more, I am more than happy to hear from you, so please do get in touch through our Vocation Director, Fr Colm O'Mahony, OSA (details on below)
Good luck in your discernment, and if you are open, God will grace you with all the answers you require.
Bro. Stephen Shields, OSA
Receiving my referee certificate recently at Croke Park takes me back to when I was 18 and the first time I refereed a game of hurling. I'll not ruin the surprise of how many years ago that was now (a clue…the cast of Derry Girls were probably not even born), the point being that it shows how long I have been interested in refereeing, and now I am finally able to do so in the Dublin area.
Br. Stephen and other recent referees received a certificate from the GAA President, Mr John Hogan, for completing a GAA Adult Referee Course.
You hear scare stories all the time of the abuse that referees receive, and no doubt there is an element of truth about them. However, little is mentioned of the extreme satisfaction one gets after a job well down (even if both sets of supporters don't necessarily agree) and the commitment to make sure the mistakes of the last game aren't repeated in the next one. Maybe this is a metaphor for life?
You'll not see me in Croke Park anytime soon as I plough my furrow in the lower leagues, but that doesn't matter. What does matter is that I am following a passion I have had for many years, and I thank my Community and my Province for this opportunity.
Of course, I especially thank God because if the scare stories are true, then I may well need Him on my side!
Bro. Stephen Shields, OSA
So do I need to be anyone special for religious life?
No. We're not looking for superman. However, there are some requirements.
Age
You need to be between 18 and 50, although exceptions can be made according to individual circumstances.
What if I'm a woman? Can I still become an Augustinian?
There are Augustinian Sisters - with several congregations spread around the world, but there are none in Ireland as of yet. For a full list of female congregations in Ireland, please click HERE. However, women can also be associated with the Order through our Augustinian lay groups. For more info on our Augustinian lay groups, click HERE.
Education
You need to have at least finished secondary school education and be qualified for tertiary studies. Once you have been accepted as a candidate by the Order, the study you take may vary. There are many paths, such as theological studies for the priesthood or another form of study that prepares you for a ministry in the Church. Such as teaching, social work, nursing...the field is wide open. The study and training we provide aim to equip you for your work as a member of the Order. This work may be in a parish, in education, in the caring professions etc. So it will be wherever you can best use your skills and gifts within the Order.
Life Experience
We would encourage you not to come too early in life. A bit of life experience after school, in a work environment, in further studies or in a family setting will help you mature and better understand yourself, others, and the world. Life experiences like these are invaluable.
Spiritual and Personal Qualities
You must be healthy and have a good healthy appreciation of life. It is helpful to appreciate your own humanity and humanness, living life in reasonably normal ways as a Christian. Individuals need a certain level of maturity as you are looking at a life that is lived in common as a celibate. Also, it is a life that may involve some demanding work. Furthermore, you need to be a person of faith, living out that faith in the Catholic community. A sense of humour would be handy too!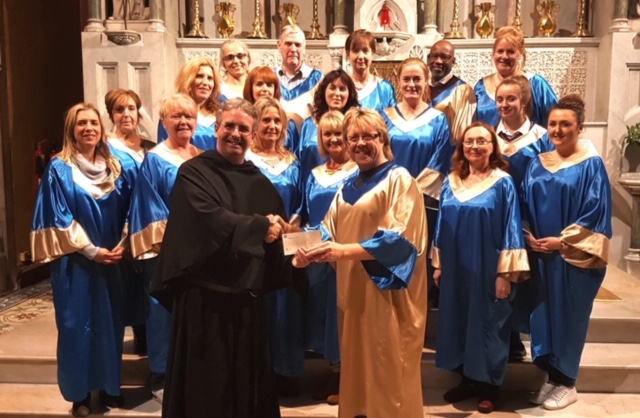 Fr. Colm O'Mahony with the Drogheda Gospel Choir